Smog Check 90023
July 18, 2013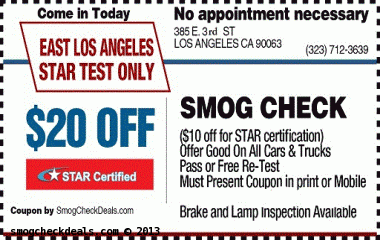 Smog Coupon $20
4479 E Olympic Blvd #A
Los Angeles, CA 90023
Tel: 323-268-5797
STAR Test Only smog center
Hours
Mon-Fri 8:00 – 6:00 SAT 8:00 – 3:00
http://smogcheckdeals.com/abc-eastern-smog-test-only-center-los-angeles

$20 OFF Regular Smog Discount Coupon
Offer Good On All Cars & Trucks
Pass or Free Re-Test
Must Present Smog Coupon in print or Mobile
Not to combine with other coupons
DMV Renewal MUST be presented prior to inspection
Smog Check:
STAR Station
We smog test all vehicles
All DMV Smog Checks
Diesel Smog Check
Smog Testing for DMV Renewal
Smog Inspection
Gross Polluter Certification
SmogCheck for Out of State
Smog Check Certificate
Why our STAR Station?
Cheapest Smog Check in Bell
While-U-Wait Smog Check
Appointment is available, not necessary
Multiple Smog Lanes
All we do is smog tests. We don't spend time making repairs, so we are able to get you in and out in as fast as 15 minutes. We have 5 convenient Southern California locations to choose from.